I have just PMed you regarding the picture of Una and the lion with the Eagle Slayer (SALE part 4). In that picture the Eagle Slayer looks very dark as I think it should be but in this picture it looks white. Have you any information as to why both pictures are so different although it looks as if they are taken at the same time!?

I am interested in the statue of the Eagle Slayer in the background and could you tell me if this is a picture inside the Crystal Palace in 1851 and do know of any contemporary pictures of this statue? (not modern 'white' painted ones.
These are the two images you mention.
London Stereoscopic Company View # 34 - The Nave
Crystal Palace SALE part 2
http://forum.sydenham.org.uk/viewtopic. ... yer#p14009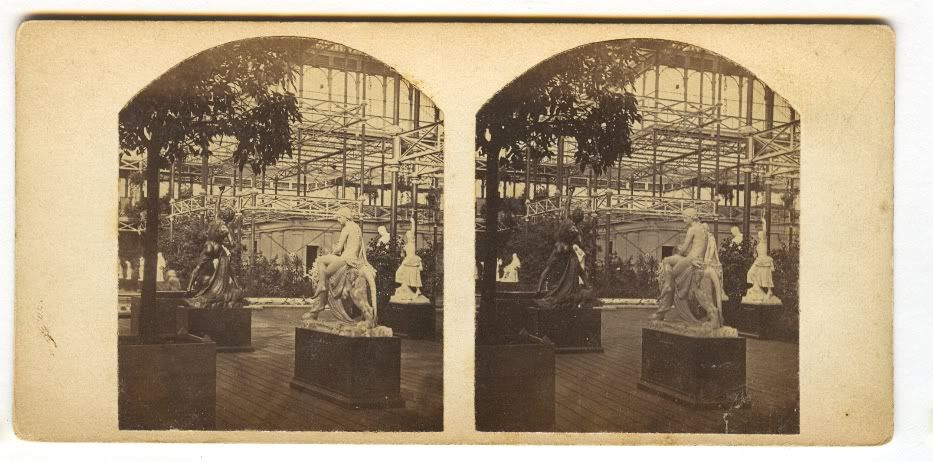 More Crystal Palace in 3d part 94
http://forum.sydenham.org.uk/viewtopic. ... 111#p22111
All the sculptures in the Sydenham Crystal Palace were PLASTER. Both these images are early, and neither taken at the Great Exhibition, though the Eagleslayer was displayed at both.
John Bell produced many version of this particular work, including the ideal material marble, and cast iron, which the one displayed at the Great Exhibition was made with. This may have something to do with the work John Bell did for the firm of Coalbrookdale who produced other works by him in cast iron. This cast -iron version has stood outside the Bethnal Green Museum of Childhood since the 1920's painted black, and when it was recently restored and brought inside, was repainted white.
V&A Website
http://collections.vam.ac.uk/item/O1024 ... le-slayer/
Report on restoration
http://www.culture24.org.uk/history+%26 ... n/art23403
Some of the statues at the Crystal Palace were 'bronzed" as you say, including the cement figures outside the building on the upper terrace.
As the Eagleslayer had already been made in marble and bronze versions by the time the Crystal Palace at Sydenham opened in 1854, I can't see which is more authentic a colouring, and as it would have been delivered as white plaster first, white could have been the first state.
Hope this helps.